Last weekend we were lucky enough to provide another dessert table for Laura and George's wedding at Grove House in the grounds of Roehampton University.
As the centrepiece of their dessert table, nestled among cupcakes and sweets, Laura and George asked us to make them a chocolate cake that was to be finished with buttercream ruffles in an ombre design. Below is a picture of the cake before it left the studio.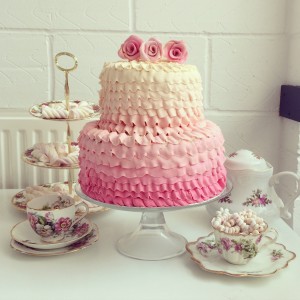 Their wedding photographer was the wonderful Eliza Claire so hopefully we will be able to post some pictures of their wedding soon.
Happy Caking
Harpreet