We have certainly been busy bees in the Crumbs Couture kitchen in the last few days!
Every now and then we make a cake in the kitchen which makes me say "Now THIS is one of my favourite cakes of all time". Right now I am LOVING this cake. Sponge, buttercream, macarons and meringues are all amazing, but what makes this cake truly different from other cakes out there, and even other cakes that we have made previously, is the multicoloured ganache. Hot pink, dusky pink and white; the result is this perfect little treat.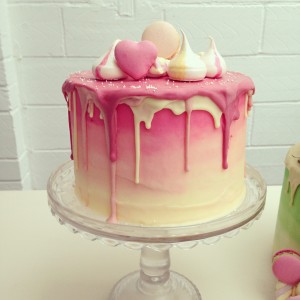 I hope you like it as much as I do!
Happy baking
Harpreet xoxo