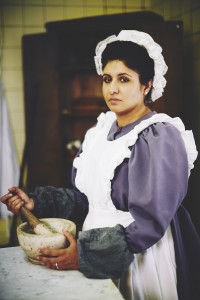 Butter and sugar and Jam, oh my! It is time for the final episode of Victorian Bakers, and what an episode it is! Finally, it is cake week, and we are in Dunns Bakery in London's Crouch End. The cakes are fancy, the bread shapes are ornate. We are living the high life!
Although there were no female master bakers in 1900, I was allowed to take the lead. Many commented on how quiet I was during last week's episode in the industrial bakery. Well I certainly was not quiet during the filming of episode 3, I am sure the gents will agree with me there.
Rather than being covered with a fine layer of coal as we were during our experiences of the 1870s, this week we were wearing smart uniforms and working with all of the finer things. Cakes were novelty, fancy and whimsical. The bakery smelt lush and the products were delicious. We even had access to CHOCOLATE!!! In all honesty the cakes of this era were a little garish, a little unnatural and definitely eye-catching. I suppose you could call them Victorian Bling.
Among other items, we made madeira tarts, genoese baskets, kaiser rolls and cakes in savoy moulds. As you will see, I was hugely skeptical about the savoy moulds; the intricate faceting of the tin worried me, and I was convinced that I would be scraping the cake out using a palette knife. Lo and behold, after following the instructions to coat the inside of the tin with LOTS of sugar, the cake popped right out. A classic example of where the Victorians had a wonderful combination of robust materials and solid techniques to produce a very impressive result, better than any cake tin I have in my bakery.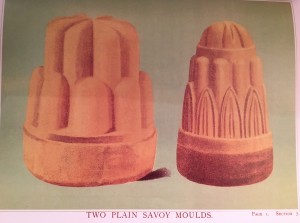 Making fondant from scratch was a new experience for me. I was a little nervous about doing this, but it was actually remarkably simple. The satisfaction that you get from producing fondant is immense, so I would definitely recommend doing this if you have access to the equipment. If you would like me to send you a recipe for this, please comment below and I will respond with the recipe!
My favourite bake from this episode was the Gateau Souvaroff, a delightful cake that allowed a confectioner to show off a variety of skills on one cake. We really had reached the height of sophistication, with bakers and confectioners keen to show off a range of techniques.
Comparing the caraway cake that we made in Episode  1 with the elaborate cakes from this episode, you can see just how far Victorians came in their sophistication and skill. I embarked on this adventure assuming there would be much eye-rolling and groaning about the methods being employed. In fact, we have had our eyes opened to the huge changes that took place during the era, and quite how far they had come. Have we gained much in terms of sophistication and expertise since 1900? Our marketplace has changed, and our inspirations may now come from a tablet rather than a textbook, but other than that we haven't gained much. In fact, if you consider cake mixes, candy melts and piñata cakes, one may think that we have actually regressed.
Happy viewing
Harpreet xoxo
Ps – To all of those pedants out there who have written tweets and messages about me baking wearing a bangle and my rings, I would ask you to look up the significance of the "kara" to a Sikh. It is also important to note that we were not making bread for public consumption, rather we were 4 people participating in a TV show, therefore we were given flexibility and allowed to keep our engagement/wedding rings on.