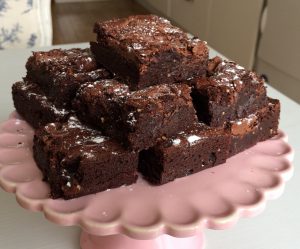 Everyone needs to have a good brownie recipe in their life. Brownies are the perfect quick treat to whip up to take with you to a party. This quick recipe produces gooey indulgent brownies that are guaranteed to make people think you have been slaving all day to create them!
Needed:
180g of chocolate (I recommend Valrhona 70% cocoa cooking chocolate) either chopped into small pieces or in the form of chocolate chips
230g unsalted butter (I recommend Lescure)
450g of white caster sugar
150g brown caster sugar
1tbsp Vanilla Extract ( I recommend Nielsen Massey)
4 eggs
150g of plain flour
50g of finely ground hazelnuts
120g good quality cocoa (I recommend Green and Blacks Organic Cocoa)
1tsp salt
Method:
Start by preheating  your oven to 175 deg c. and then crush your chocolate into small pieces. Place this into a large bowl with your butter. Place a saucepan of water on a low heat and put the bowl of chocolate and butter on top, ensuring that the bowl does not reach the bottom of the pan. Let the heat from the water melt your chocolate and butter mix, stirring until you have a smooth mix with no lumps, at which point you should remove the bowl from the pan.
Once your chocolate and butter mix has cooled to room temperature, you can beat in the sugar. Once combined, add the eggs one at a time, and then the vanilla extract. Add the flour, ground hazelnuts, salt and cocoa and mix until smooth.
Take a 9 inch by 13 inch baking tin and line it with parchment. A good trick for this is to make sure your parchment is 2 inches larger than your tray, i.e. 11 inches by 15 inches. Make a diagonal 1 inch cut at each corner, towards the centre of the sheet. This will allow the parchment to  overlap at the corners of your tin.
Spoon your brownie batter into the tin and smooth with a palette knife or spatula. At this point you can sprinkle shards of chocolate on top of the batter or swirl in some chocolate hazelnut spread. Bake in the middle of the oven for approximately 35-40 minutes and until the slab has a papery crust on top and the sides are beginning to come away from the edges of the tin. Ideally a toothpick inserted in the middle should come away clean but the brownie slab should still have a bit of softness in the middle.
Lift the slab out of the baking tin using the parchment as a sling, and leave to cool on a baking rack. Once totally cooled, cut into squares and finish with a light sprinkling of icing sugar.