Classes
Crumbs! Couture is happy to provide cupcake making classes for adults and children. Our adult classes range from 2.5 hours to 6 hours, they cover a range of baking and decorating abilities and are ALWAYS FUN!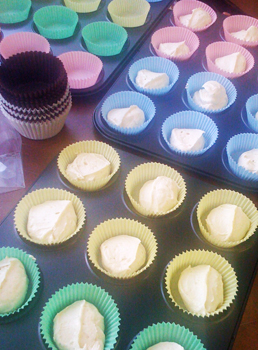 Our Children's cupcake classes are designed in a way to encourage children to engage in baking as a fun and creative pastime, whilst maintaining a sense of care and responsibility in the kitchen. Most of our classes take place in our kitchen, meaning that you don't have to deal with all of the mess! If you prefer, we can come to a venue of your choice and conduct the class elsewhere.
We always provide food and drinks, with our Cupcakes and Champers class including champagne and canapés. For more information on our classes, send us an e-mail at hello@cupcakeslondon.com and we will add keep you updated on our upcoming classes.
Examples of the classes that we do:
Adult Classes:
-Valentine's Day Cupcakes
-Chocolate indulgence Cupcakes
-Wedding cupcakes
-Fondant roses and cupcakes
-Vintage Flair Cupcakes
-Cupcaking for Beginners
Children's classes:
-Children's Halloween classes
-Children's summertime treats classes
-Children's Wintry Treats classes
– Childen's Birthday Party class.